A Look Back at Black History Month in CCSD59
Throughout February, CCSD59 students and staff have continued age-appropriate lessons centered around African American history, culture, and leaders. Black History Month has provided our students the opportunity to develop a deeper understanding of the impact of historical figures of color as well as realities of some issues faced by black communities today.
At Juliette Low Elementary, students routinely learn about historical figures and how their work can be applied today. This month, those figures have been members of the black community. Students were tasked with interpreting quotes from Dr. Martin Luther King Jr. and create their own dream for the future. Students across our elementary schools continued to draw lessons from the lives of other famous black figures and were inspired to live by the ideals they attempted to instill.
At the junior high level, students dove deeper into social issues facing today's communities. At Grove, students gave speeches after creating "body biographies", which combined research with art to create murals dedicated to historical figures. At Friendship, students took this same concept to create a mural on the door of their classroom so friends could observe and learn more about these figures. 
Classrooms at several buildings also took part in book studies that celebrated black authors as part of the district's contemporary/critical fiction work, including titles such as "Dear Martin". Slavery also became a topic of review among students in works such as "Nightjohn" by Gary Paulsen. Research on African American educators throughout history followed, and the lessons from these books became celebrations of characters who strived to receive an education.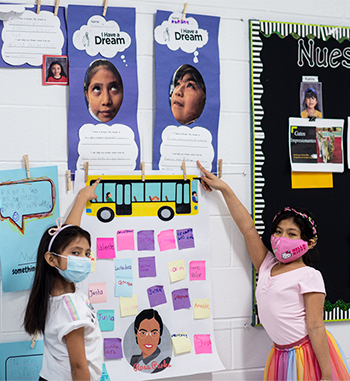 We have been proud to see so many examples of students discussing important issues and developing an understanding of different life experiences or manners of thinking. The ability to not only study historical educational contributions by the African American community, but also pair that with inclusion and acceptance practices in social emotional lessons, only serves to strengthen our school culture.  
We look forward to seeing more examples of how our schools celebrate and our students learn about how individual groups made a profound impact on our world, including this upcoming month, as March is recognized as Women's History Month.