Students Practice Arithmetic for Animals
What's better than students sharpening up their math skills? Doing so while helping a great cause at the same time, according to Clearmont's  Dual Language second-grade class, their teacher, Mrs. Barbara Urban, and instructional coach Amy Gerardy.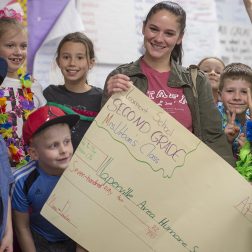 Urban's second-grade mathematicians have been diligently working on Math Learning Experience #3, which guides students through designing a fundraiser while practicing multiplication readiness skills. These service-minded students decided to raise money for the dogs and cats at the Naperville Area Humane Society.
The second-graders shared their project with Clearmont students and staff on morning announcements, distributed hand-decorated boxes to each classroom for donations, worked on service projects at home, and sold crafts, all in efforts to raise money for their favorite animals.
The combination of these efforts resulted in the class raising $779.89 for the shelter, an amount that surprised Urban, Naperville Area Humane Society, and even the students themselves. On Friday, April 27, Kristen Funk, Humane Education Manager for the organization, was delighted to pick up an oversized display check from the students, who were also festively dressed for Hawaiian Day.
"You're going to help a LOT of cats and dogs with this much money," Funk said to the class, before exiting the classroom.
Congratulations to the students, for both the math skills and the generous donation.